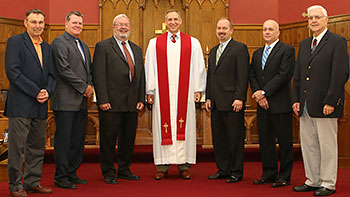 We are a church in the Oklahoma City metro (we have residents from Norman to Edmond, Yukon to Midwest City) who believe God justifies the wicked by faith in Christ alone. We preach Christ and Him crucified in a reverent worship service with weekly communion, where all the baptized are welcomed–young and old.
Our theological approach is confessionally Reformed, though we welcome anyone who trusts in Christ alone or even might want to. We are interdenominational with hope of developing ecumenical relationships with area churches…not unlike the churches of the New Testament. Perhaps most of all, we believe the vicarious work of Christ for sinners means that we must treat everyone with liberal and shocking grace and kindness, even and especially to those who may happen to offend our particular sensibilities.
Pastor
Our pastor is Mark Balthrop. Mark is a native Oklahoman from the Ada area (Byng) and graduated from the University of Oklahoma with a music degree. Following several years of teaching, playing trumpet, and working as a church musician, he attended Reformed Theological Seminary in Orlando, Florida, graduating with a Master of Divinity degree. He is a Board Certified Clinical Chaplain and has pastored churches in Texas, Georgia, and Oklahoma. Mark also serves from time to time as a hospice chaplain and volunteer chaplain with the Oklahoma Department of Human Services.
Mark is married to Kristen, also a native Oklahoman, and they enjoy their three children: Maggie, Levi, and Betsy.
As a preacher, Mark thoughtfully preaches the Bible in its unique authority as the very word of God. He views the scriptures as God's unfolding drama in Jesus Christ to restore all that was lost through sin to all that God would have us and creation to be. As a pastor, Mark shepherds the flock both in and out of the pulpit. He seeks to help our members bring both self-reflection and theological reflection to bear upon Christian life as aliens and strangers in this world. As John Calvin's wonderful Institutes of the Christian Religion begins,
Nearly all the wisdom which we possess, that is to say, true and sound wisdom, consists of two parts: the knowledge of God and of ourselves. But, while joined by many bonds, which one precedes and brings forth the other is not easy to discern.
Chief Musician

Our chief musician is Dr. Valerie Manning. She has degrees in church music from Newberry College, Westminster Choir College and Guilmant Organ School (NY, NY). She has served as organist/choirmaster for churches in Kansas, North Carolina, Illinois, South Carolina and Florida. As well, she has been a frequent chamber music and orchestral harpsichordist.
Besides her musical career, Dr. Manning is also a family practice physician with Norman Regional Health System and staff physician with Norman Regional and Deaconess Hospitals.