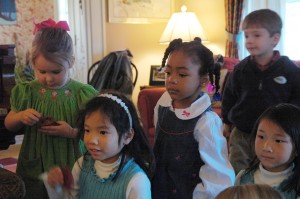 Redeemer Reformed Church welcomes the opportunity to education young and old in the Scriptures and its living faith. We provide both children's Sunday School and adult Sunday School opportunities.
Children's Sunday School
Redeemer has 3 classes for children divided by age. The 10-14 year olds are taught by Bob and Denise Hensley. The 7-9 year olds are taught by Kristen Balthrop and Jackie Saxon, and the 4-6 year olds are taught by Lisa Cross and Hilary Clark. The younger classes have singing, memorization/recitation activities, and a Bible story all in the context of a positive learning environment. Pre-readers and readers form two separate groups for activities (doing a craft or memorizing the Catechism, etc.). The lesson typically goes with the lectionary readings of the day and concentrate on tracing the story of God's redemption of His people in Christ from the Older Testament through the Newer Testament.
The older kids' class continues learning for life-long Christian formation. They have vigorous interaction through apologetics and challenges to know Scripture better. All three classes meet on the second floor.
For children ages three and younger see the nursery page.
Teenagers 15 and older fit in just fine in the adult Sunday School class.
Adult Sunday School
The adult Sunday school class is taught by Pastor Mark. He is currently teaching through the Heidelberg Catechism where we find many of the basics of Reformed theology, including such topics as the sovereignty of God, the order of salvation, the history of salvation, substitutionary atonement, predestination, free will, pneumatology (on the Spirit), Christology (on Christ's 2 natures in 1 person), theology (on God), ecclesiology (on the church), and eschatology (on end/last times). Some Sundays have an open question and answer time. The schedule for the class is refreshments and coffee from 10:30-10:45 and teaching from 10:45-11:45. Worship is at 9:00.